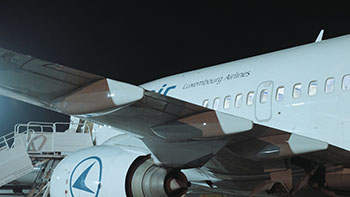 Recently, FL Technics, a global provider of one-stop-shop aircraft maintenance, repair and overhaul services, has completed the first two C-checks for the Luxemburg carrier Luxair.
"I was impressed with the high professional standards and smooth communication with all FL Technics personnel involved in the process at various project stages," said the representative of Luxair Martial Romanjuk. As a result of flawless cooperation, Luxair was positive about extending the scope of business with FL Technics in the future.
"Each and every time we greet the first aircraft delivered to our hangars by a new customer with great excitement. However, in a way, welcoming the next aircraft of the same provider gives us even more satisfaction, as it means that we have met all customer expectations with regard to the first order," commented the CEO of FL Technics Zilvinas Lapinskas.
Luxair is the flag carrier of Luxembourg. Headquartered in Luxembourg Findel Airport, it operates scheduled services to destinations in Europe, North Africa, the Mediterranean and Middle East with additional charter and seasonal services. It is Luxembourg's only passenger-carrying airline operating a fleet of almost 20 Boeing 737-700, Boeing 737-800, Bombardier CRJ-700 and Bombardier Dash 8 Q400 aircraft.