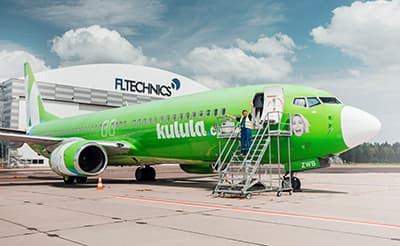 domestic airline operator in the Republic of South Africa listed on the Johannesburg Stock Exchange (JSE).
Comair Limited is a South African aviation and travel company, offering scheduled and non-scheduled airline services within South Africa, Sub-Saharan Africa and the Indian Ocean Islands, as its main business. The company operates under its low-fare airline brand, kulula.com, as well as under the British Airways livery, as part of a license agreement.
According the agreement, Comair Limited will receive extended Base maintenance services. "The first aircraft, a Kulula.com Boeing B737-800 is being completed a 6YR C Check", – said Zilvinas Lapinskas, CEO at FL Technics.
About FL Technics: FL Technics is a global provider of aircraft maintenance, repair and overhaul (MRO) services. Company specializes in base & line maintenance, spare parts & component support, APU & LG management, full aircraft engineering, technical training. FL Technics is an EASA Part-145, Part-M, Part-147, Part-21 certified company with certificate approvals in Indonesia, Bermuda and other countries. FL Technics is a member of the Avia Solutions Group family, a global aviation holding company.
The video fo greeting ceremony: https://www.youtube.com/watch?v=ItyJx-YjdjY
More information:
Jurga Raguckait\u0117
Head of Communication
Mob. +370 633 55996
[email protected]